You've spent months planning your event. Now take a few minutes to make sure it is covered! With a Special Event policy, you can rest assured that the event—whether it be a wedding, a golf tournament, a concert, or any event that offers alcohol—will be protected should you encounter any hitches.
Everything will be fine, right?
You never want to think of the things that can go wrong. But ask any professional event planner, and they will unanimously tell you: things do go wrong.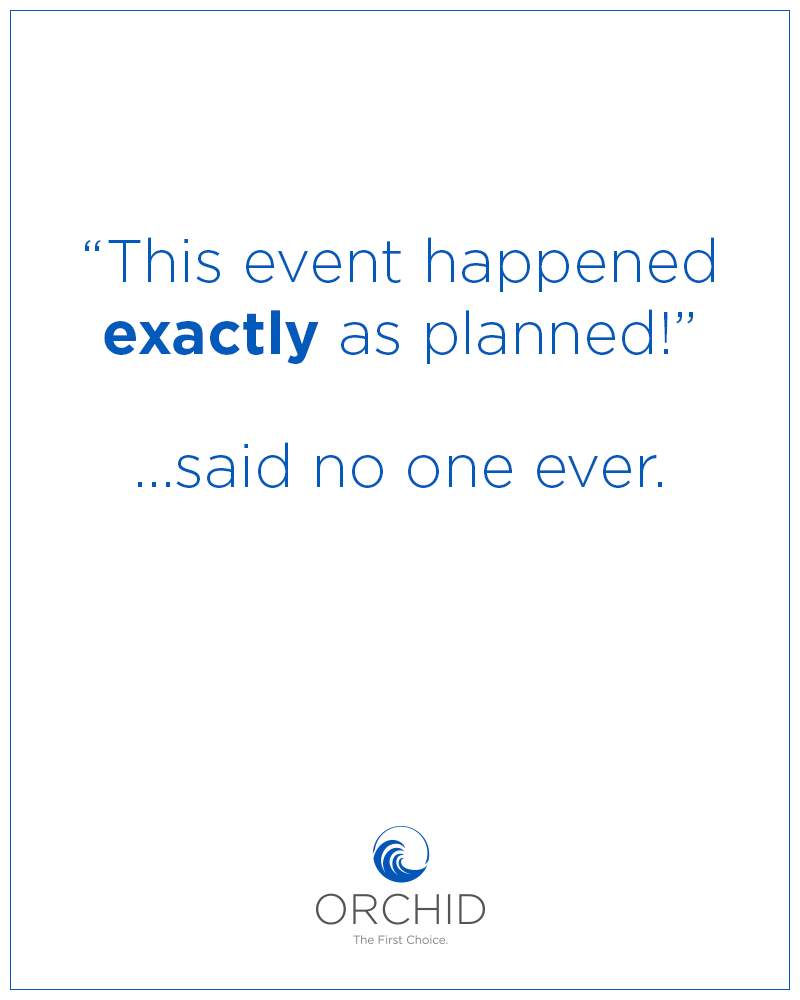 Think of all the things happening at a large event: lots of employees, loads of equipment, a tight schedule, and an even tighter budget. That doesn't even include the people attending the event.
With the number of things happening at once, accidents can happen. An employee could accidentally damage property at the venue. A fight could break out between the attendees. A stage could collapse, causing injury. A guest could slip and fall. Weather could cause a delay or even a cancellation.  An intoxicated guest could drive home and cause an auto accident.
All of these scenarios would have the potential to be costly and damaging if they were to happen. And they would fall on you to handle and pay for as the responsible party.
That's why Special Event liability is a must.
In fact, many venues won't rent their facility unless you provide proof of insurance, and many may require you to include the venue owner as an additional insured under the policy.
What is Special Event Insurance?
It is a type of insurance policy that helps protect against lawsuits for damages to the venue or injuries that occur during a special event.
Consider the following events that need Special Event Coverage.
Large-scale public events
Think of all the moving parts of a music festival. The bands, the tents, the equipment, the food trucks, the vendors, and of course, the attendees. All of that lends to a whole lot of liability. That's where Special Event coverage comes in.
A typical policy will cover either a one-day, multi-day, or annual event such as a festival, parade, concert, or car show. It will cover all the staff—volunteers, temporary workers or committee members—but also will cover damages, injuries, and even delays or cancellations.
Weddings
As soon as you put a ring on it, you should put a policy on it!
Weddings are special, momentous occasions, and the last thing you need is extra stress because something goes wrong. This coverage will provide the peace-of-mind you need to know that your event is covered—from food to florists, and everything in between. It will even cover you if you decide to call it off.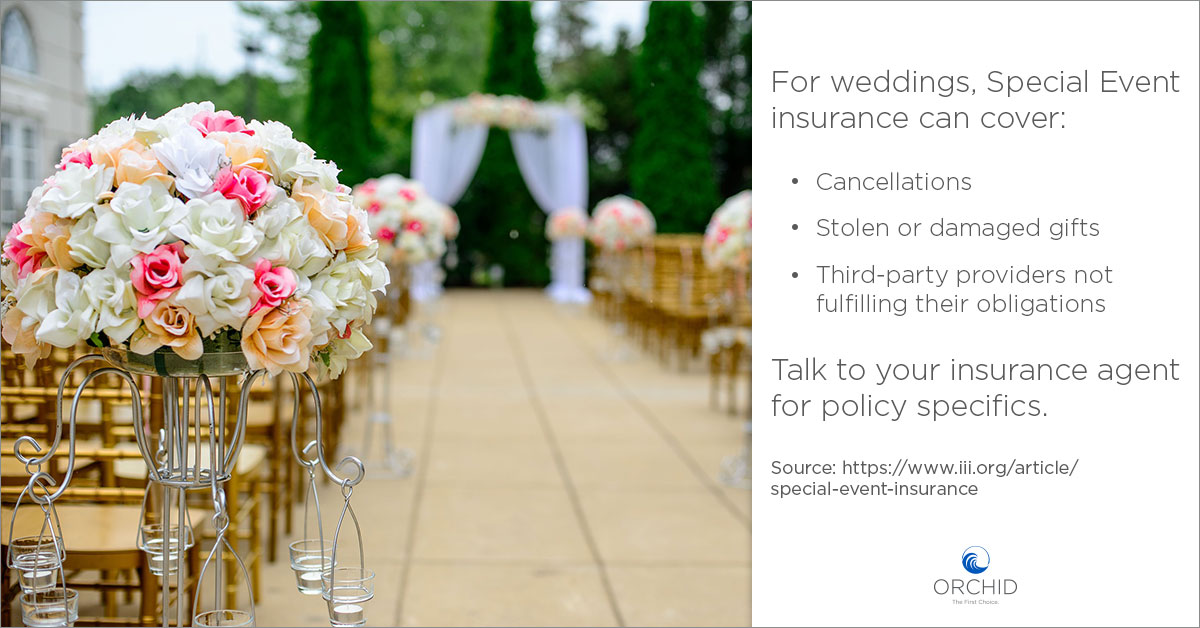 Alcohol—anytime, anywhere
When alcohol is involved, there's no telling what can happen!
Some of the things that have been known to occur include property damage, fights, and accidents causing injury. The attendees might blame it on the alcohol, but the venue is likely to blame it on you.
That is why Liquor Liability coverage is essential to any event that will offer beer, wine, and spirits to make sure you are protected. Once that is in place, you can raise your glass knowing you are covered and can remain the host with the most.
Hole-in-Ones
Nobody ever wins those things, right? Occasionally, however, someone does!
If the participants have what it takes to make the shot, you want to be sure you have what it takes to cover it. Hole-In-One coverage, which is a separate policy unto itself, will offer liability coverage for the event and will reimburse up to a $50,000 prize. In addition, the carrier will donate 20% of the prize to a charity.
A couple things to note: someone must witness and confirm the hole-in-one, and there are no do-overs allowed.
Do you have an event coming up? Leave nothing to chance! Have your insurance agent contact us today at 772-226-5546 Ext. 239 so we can put together the perfect Special Events policy that fits your needs.