Boating is a great leisure activity. Whether it's a family day in the salt air, a quiet fishing day at the lake, or a trip on your private yacht to the islands, you'll have peace of mind if you know you're insured against any calamity.
1. What is boat insurance and what does it cover?
Whether you have a sailboat, pontoon boat, or top of the line fishing boat, you'll need "hull insurance" for the boat itself as well as liability insurance.
First, hull insurance will insure the boat itself against damage, wrecks, fire, lightning or other incidents. You may have purchased a fixer-upper or new model off the dealer's lot and in either instance, you'll need proof of its value. You may choose coverage that reflects depreciation of your boat over time (aka "scheduled value") or select a replacement cost rider to get a new model. In addition to your boat, your policy will also cover your personal property that you keep on your boat.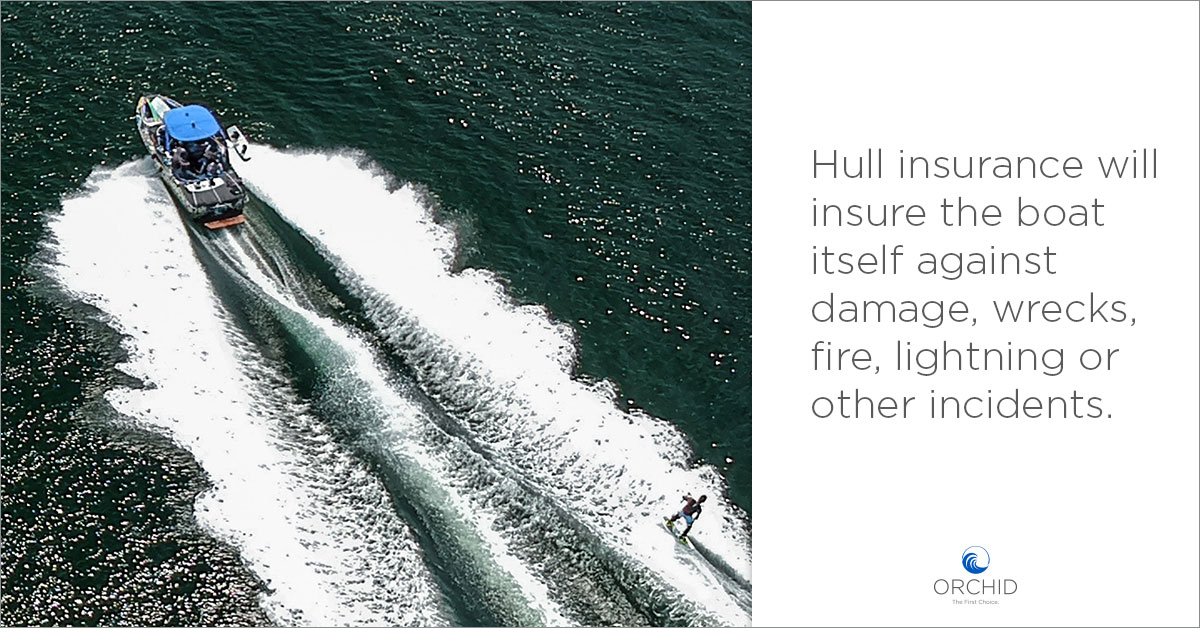 Your policy may include wreckage removal if something happens to your boat, towing, and a rider for fuel spills that you cause. In the event that you accidentally damage a dock or moor, a claim can result in significant out-of-pocket expenses, so boat insurance is worth the investment.
What happens if you, your family or guests get injured while boating? Your Boat Insurance policy may include liability insurance if you or your passengers get injured or if you are injured by an uninsured boater. Some people choose liability-only insurance policies for their boats to protect people and property that belongs to others.
You purchased your boat for enjoyment. It can be worth the peace of mind to get Boat Insurance to make sure you, your passengers, and your boat are protected.
What is boat insurance coverage?
Boat insurance coverage is the type of coverage you will need in case your boat is damaged, stolen, or causes damage to others. Hull insurance will cover the boat itself, while liability insurance can cover injuries and accidental damages to docks, moors, and others' property.
2. Is Yacht Insurance different than Boat Insurance?
Boat insurance is designed for boats that are typically less than 26 feet in length. Yachts are typically more than 27 feet in length, have larger engines, and are more expensive than smaller boats. In general, yachts typically travel longer distances and into deeper waters, carry more people, may require a crew, and have more accessories and personal belongings. All these factors result in a different risk exposure and require different types of insurance, coverage options, and deductibles.
The first part of a yacht policy includes hull insurance, which covers the agreed upon value of the yacht whether it is old, new, or an antique vessel. You may also agree upon depreciation rates and replacement value.
Liability insurance is essential. First, you may be carrying passengers, whether they are friends and family, or you hire out your boat for pleasure cruises. In deeper waters, you'll be governed by Maritime Law, not Federal or State Law, which can be more complicated. You may be required to get Harbor workers and Longshoreman's coverage if you have a crew for your yacht.
Working with an agent who understands the value of your vessel and how you will be using your yacht will help you get the right coverage for any incidents that may occur. If you own a performance boat, you will also require a specialized insurance policy since it has a higher level of risk.
3. Does my homeowners or auto insurance protect my boat?
No. Your homeowners insurance is designed to provide property and liability protection to items in your home or on your property. If a tree falls in your backyard and crushes your rowboat, you're probably covered for the loss. If you're taking a weekend boat trip on your new cruiser, your homeowner's insurance won't cover any damage or injuries you sustain while on the boat. That's why boat insurance is a great investment to protect your loved ones and your property while away from home. Likewise, your auto insurance will not protect you while boating.
What if your home is your boat? For houseboats or boats used as a vacation or permanent residence, contact your agent to customize a policy that will protect your boat, personal effects, and liability.
4. Does boat insurance protect my Jet Ski or Waverunner?
Boat Insurance typically covers watercraft that are longer than 16 feet and powered by jet pumps, not propellers. Canoes, kayaks, rowboats, and Jet Skis are typically not covered by Boat Insurance. Any watercraft that is small and you must stand up, sit down, or paddle is excluded from Boat Insurance coverage and probably your homeowner's policy too.
Personal Watercraft (PWC) insurance is available to insure your favorite Jet Ski, Waverunner or similar water scooter. For a nominal cost, you can insure your watercraft for property damage caused by accident, theft or fire; property damage to other boats or docks; wreck removal; personal property damage or theft; or trailer damage. Liability coverage protects against injury by uninsured motorists or boaters, medical payments, and injury to other passengers.
5. Does my state require boat insurance?
Only three states require some type of boater's insurance with Utah being the most stringent, requiring both property and liability insurance. You can find a complete list here.
However, if you are financing a boat through your bank or other lending institution, you'll need insurance in case of loss or damage. In addition, the company that runs the slip or mooring where you dock your boat will also want proof of Boat Insurance.
6. Will boat insurance cover a trip around the world – or just a trip to the local lake?
Most Boat Insurance policies limit your trips to inland waters like rivers and lakes or a defined mileage limit from the ocean shoreline. If you'll be going out to sea for pleasure or business, you should consider yacht, charter boat, or other types of marine insurance.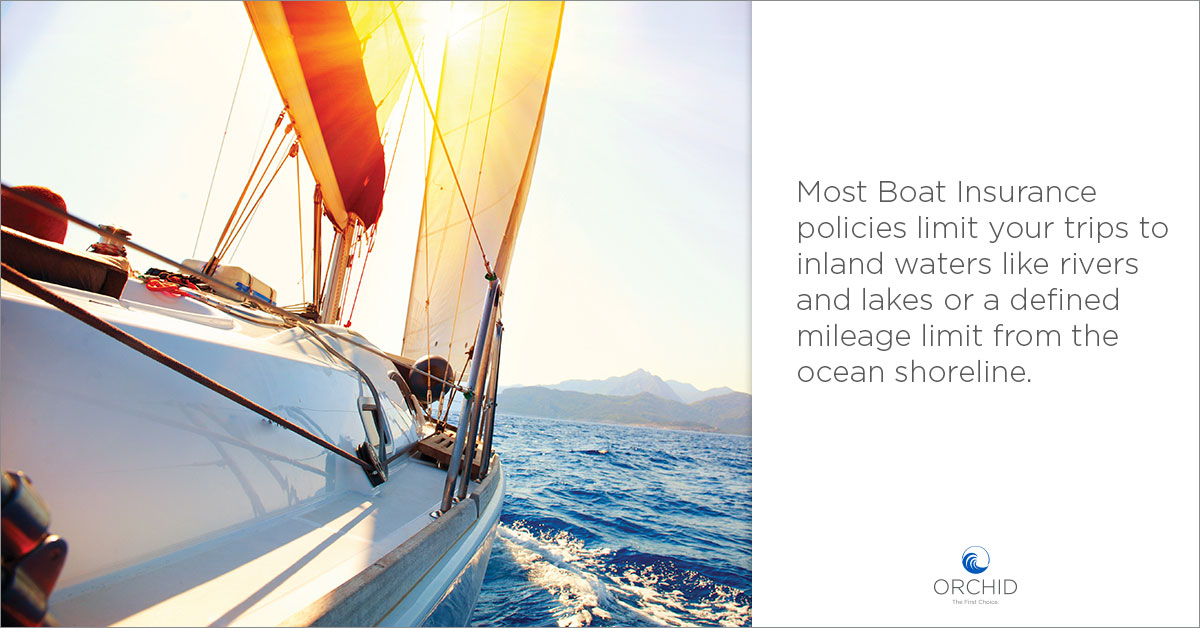 7. What are boat safety tips that will help me be a better Captain of my boat?
Boater safety will keep you and your passengers safe and lower your insurance premiums. The US Coast Guard has several safety tips for recreational boaters that include:
All passengers should wear a life vest – 80% of fatalities could have been averted with life vests
Avoid Boating Under the Influence (BUI) – alcohol is more dangerous on the water than on land, so avoid it
Take a boater safety course – learn how to protect your family and safely operate your vessel
Know your Paddling Limits – even kayakers and paddle boarders need safety education
Carbon Monoxide – understand how this lethal gas can affect boaters and passengers
8. Will boaters insurance pay if my boat is damaged in a hurricane?
The answer is…it depends.
Some people choose liability-only policies that do not cover damage to your boat, so if you're willing to lose your vessel to Mother Nature, this policy may be for you.
When a hurricane strikes, you may be faced with salvaging your boat, hauling it to a safe location, repairing damage to your trailer, and paying labor costs to recover and/or repair your boat. You can work with your agent to customize your policy for salvage, hauling, trailer damage and other costs that may affect you in a hurricane. You can also review coverage amounts and storm deductibles that vary based on the area you reside in.
9. Is boat insurance expensive?
Boat insurance depends on the value of your boat, personal property levels, liability limits, and the deductible you choose. The area you live in and how you will use the boat will also affect the cost of your policy.
Contact Orchid Insurance for your Boating Needs
Orchid Insurance is your headquarters for Boat Insurance and can advise your insurance agent on a policy that will protect your vessel, personal watercraft, yacht, and passengers. Don't go boating without protection!
Ask your agent today about Orchid Insurance. If you're an agent, call us at 772-226-5546 ext. 239 to learn more.