We love our homes. We want to make sure our families, pets, and belongings are safe from potential harm. Most homeowners understand that insurance is a critical way to protect the ones they love from unexpected and catastrophic events. But unless required by their mortgage company, many homeowners often overlook a critical type of coverage: flood insurance.
In recent years, our country has experienced record-breaking storms that resulted in significant property damage from flooding. Homeowners fortunate to be covered by a flood policy, may erroneously assume they are fully covered by their federally funded policy. As flood events become more common, the best time to understand and secure flood insurance is before they experience a potentially devastating event.
What is a Flood?
As defined by the Federal Emergency Management Agency (FEMA) a flood is essentially an event that is usually caused by a natural disaster. To be clear, the NFIP does not cover a flood caused by a burst water pipe or other more common occurrence. You should consult your insurance professional to better understand what type of property insurance you will need to cover this type of claim.
Hurricanes and Torrential Rains Drive the Need for Flood Insurance
The Insurance Information Institute (III) keeps records on the number of policies and claims paid for flood damaged homes under the NFIP due to named storms or torrential events, and their statistics are revealing:
| Year | No. of NFIP Policies | No. of Losses Paid | Average Paid Flood Claim |
| --- | --- | --- | --- |
| 2015 | 5,205,094 | 25,798 | $39,861 |
| 2016 | 5,081,470 | 59,332 | $62,247 |
| 2017 | 5,047,602 | 95,235 | $91,735 |
In 2017, the US experienced three damaging hurricanes: Harvey, Irma, and Maria which resulted in a higher claim. While some of the claims were accounted for in 2017, the impact was felt in the following year as well. As of July 2018 (6 months), there were 76,000 claims paid with an average loss of $115,430.
Where is Flood Insurance Needed?
The III also has information on the number of flood policies owned by state, both for NFIP and private market insurance. The statistics show that Florida, by far, is the nation's leader in flood insurance, with Louisiana in 2nd place.
NFIP Policies
Private Insurance
Total
All States
656,473
4,390,778
5,047,251
Florida
125,291
(nearly 20% of all policies
& premiums)
1,633,761
(nearly 37% of all policies
& premiums)
1,759,052
(nearly 35% of all NFIP &
private insurance policies)
Louisiana
125,014
(nearly 19% of policies
& premiums)
373,257
(nearly 8.5% of all policies
& premiums)
498,271
(nearly 10% of all NFIP &
private insurance policies)
These statistics show that Florida and Louisiana homeowners are most in need of flood insurance and purchase both federal and private market flood insurance. Together, Florida and Louisiana account for approximately 45% of all flood insurance policies and premiums in the United States.
The 19 states on the Atlantic Ocean and Gulf of Mexico coastlines account for approximately 83% of all policies written. The 4 states with Pacific Ocean coastlines account for nearly 8% of all policies, followed by 20 inland (non-coastline) states with 5% of policies, 7 Great Lakes states with 3% of policies and the remainder – Alaska, Guam, and Puerto Rico with less than 1% of all policies.
The Institute also revealed what type of structures are covered by flood insurance:
Single family homes: 69%
Condominiums: 20%
Non-Residential: 5%
Multi Family (2-4 residents): 3%
Other residential: 3%
Common Flood Insurance Misconceptions
FEMA offers 5 myths about flood insurance that everyone should know.
Myth #1: My homeowner's policy covers a flood.
False. Homeowner's policies typically do not cover floods. FEMA states that the NFIP policy costs approximately $700 annually. You can also look to private insurance for additional coverage.
Myth #2: Flood damage isn't significant.
False. Just 5 inches of water can create $25,000 in damages.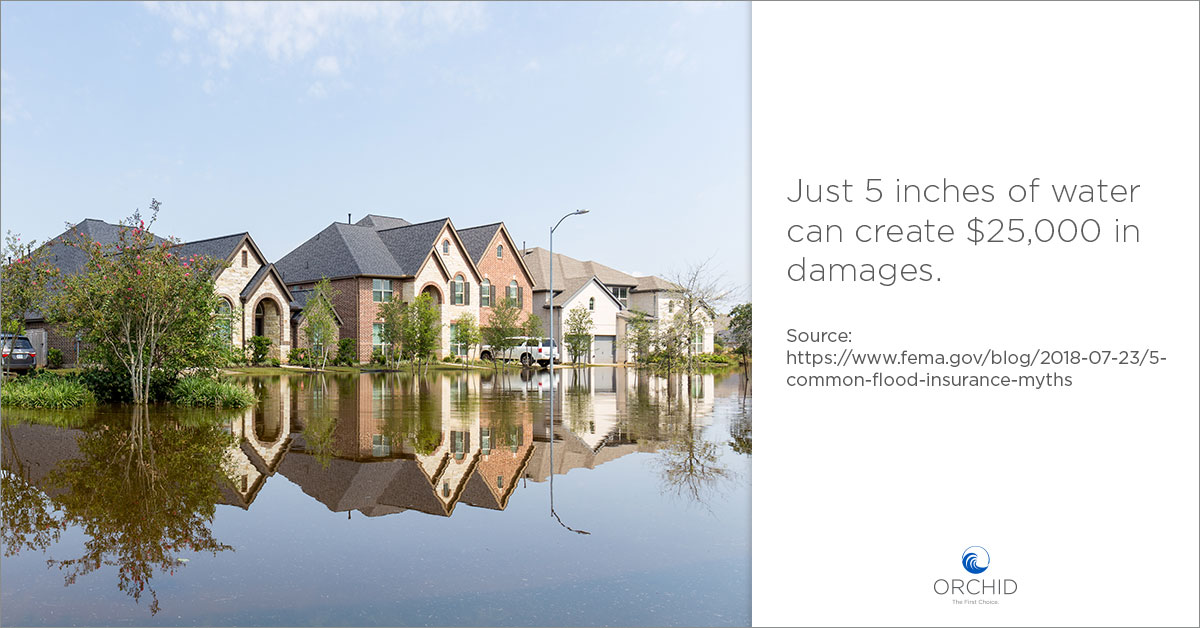 Myth #3: Flood insurance is only for homeowners.
False. Homeowners, renters, condominiums and businesses can all get flood insurance from their insurance agent or floodsmart.gov.
Myth #4: You can only buy Special Flood Hazard Area (SFHA) if you live in a designated area. 
False. According to FEMA, "Anyone can buy flood insurance if you live in the more than 22,000 participating communities. A community voluntarily joins the NFIP by agreeing to adopt the NFIP's minimum floodplain management criteria into its local ordinance. In exchange, flood insurance and other disaster assistance is made available to the community. If your community does not participate in the NFIP, you can make a request for it to do so through your mayor, city council or county commissioner's office."
Myth #5: I don't need flood insurance since FEMA provides disaster assistance.
False. Flood insurance protects policy owners even if the event is not severe enough to be declared a disaster, which have only been declared 50% of the time. Federal disaster is assistance in the form of low interest loans, which must be repaid. For example, Hurricane Harvey's average NFIP claim was $100,000. The average FEMA assistance grant was $7,000.
The findings are clear: only flood insurance will replace a homeowner's property and get them back on the path to recovery.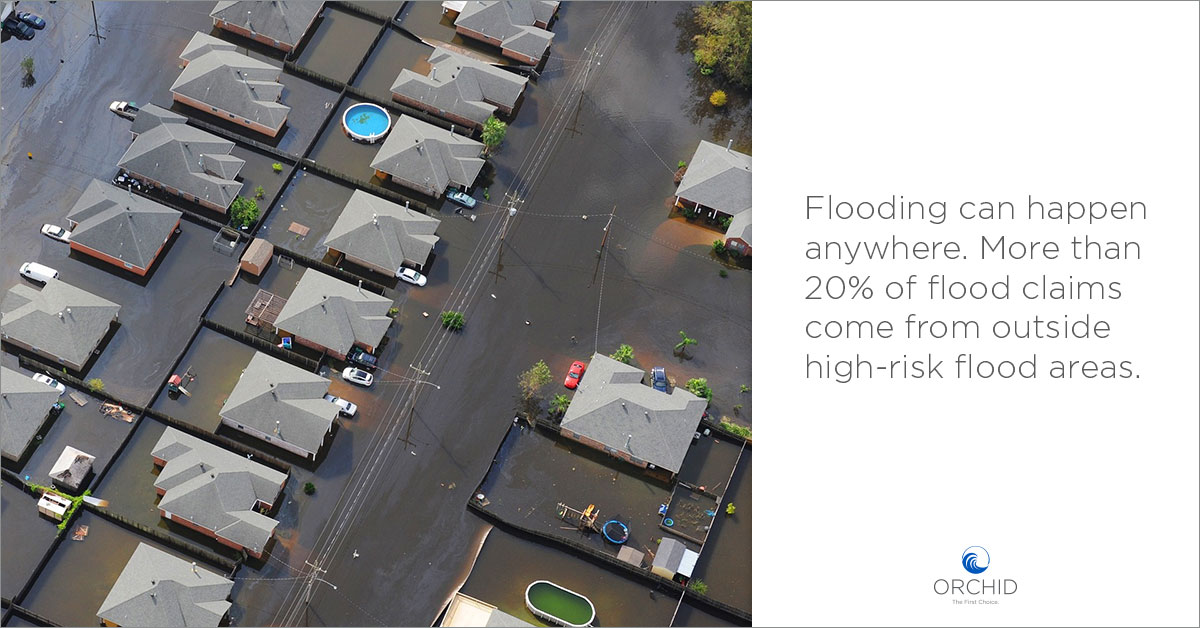 Why should homeowners look for Private Flood Options?
Private flood insurance offers a range of options that extend beyond that of NFIP. Private flood insurance:
Has higher rates of coverage than NFIP's $250,000/$100,000 limits.
Offers enhanced protection, especially for structures like garages and unattached buildings.
May offer replacement value and loss of use coverages.
Premiums may be less than for NFIP.
Shorter wait times for policy to be in effect.
May cover loss of business income.
While private flood insurance can offer a great range of options, each homeowner situation must be looked at carefully to review flood insurance carriers, homeowner location and property, and other factors to ensure the right coverage is selected.
Don't wait until it's too late
For 2019, the Climate Prediction Center (CPC) forecasts an average hurricane year of 12-15 named storms of which 4 to 8 will turn into hurricanes. While the number of hurricanes may be normal, there is nothing average about the extent of the damage it can cause to a homeowner's property and lives.
Now is the time for homeowners, businesses, and renters to review their flood insurance coverage to make sure they are covered in the event of a damaging flood, rain, or hurricane.
For more information on how to offer the best flood insurance options to homeowners, contact Orchid Insurance at 772-226-5546 Ext. 239.